Craftsman M105 Lawnmower Review
September 26, 2023
Our rating
Positives
21 inch cutting deck

67L collection bag

Great 140cc Briggs & Stratton engine
Negatives
Heavy which can make hills challenging

Loud engine – worth investing in hearing protection
Design and Build
Crafted with durability in mind, the Craftsman M105 features a 21-inch steel deck that stands up to the rigors of regular use across a variety of lawn conditions. The ergonomic, adjustable handle ensures a comfortable grip and ease of maneuverability, making the lawnmower adaptable to different terrains and user heights.
Performance
In terms of performance, the M105 is a notable contender. The 21-inch cutting deck allows for efficient coverage, making it ideal for tackling medium to large lawns with fewer passes. Additionally, the 6-position height adjustment feature enables users to customize the cutting height from 1.25 to 3.75 inches, catering to diverse grass lengths and conditions.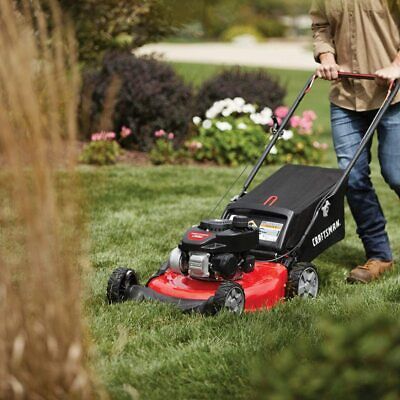 Engine and Fuel Efficiency
Equipped with a robust 140cc Briggs & Stratton engine, the M105 offers a blend of power and reliability. The engine guarantees a consistent supply of power, reducing the likelihood of stalling, even in denser grass areas. With a fuel tank capacity of 1L, the lawnmower demonstrates commendable fuel efficiency, allowing users to mow sizeable areas before needing a refill.
Ease of Use
User-centric features define the ease of use of the Craftsman M105. The auto-choke system eliminates the need for priming or manual choking, ensuring a hassle-free start. Large, 7-inch front and 8-inch rear treaded wheels enhance maneuverability, making navigation over uneven terrain and around obstacles a breeze.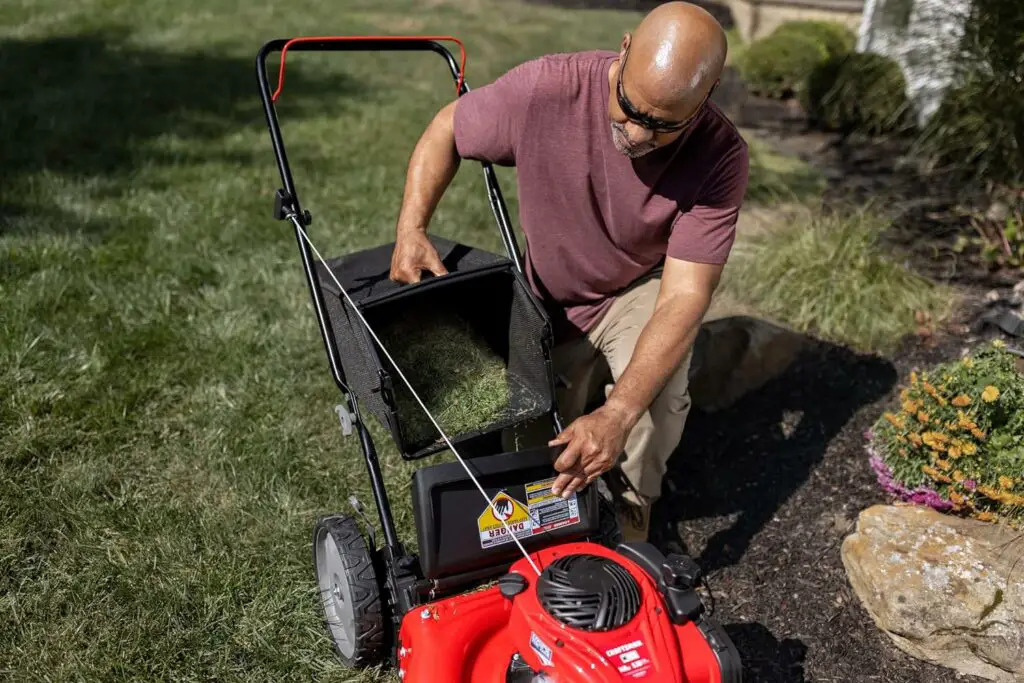 Collection Box
The M105 is equipped with a substantial 67L rear collection bag. This sizeable capacity minimizes interruptions for emptying, thereby maximizing efficiency and workflow, especially when dealing with voluminous grass clippings.
Noise Level
While the M105 is not the most silent, it operates at a noise level around 90 dB. This is within the acceptable range for petrol lawnmowers, but ear protection is recommended for prolonged use, and considerate mowing times should be chosen in residential areas.
Cons
Despite its merits, the Craftsman M105 does have a few drawbacks. It is relatively heavy, which could be challenging for some users, especially when navigating slopes or uneven terrain. Additionally, while the noise level is within acceptable standards, it may still be a factor for those in quiet neighborhoods.
Conclusion
Concluding, the Craftsman M105 Lawnmower emerges as a reliable and efficient option for those seeking a blend of performance and durability. Its specific features, such as the sizable collection bag and adjustable cutting height, align well with real-world lawn care needs. While the weight and noise level are considerations, the overall value and functionality of the M105 make it a solid investment for maintaining lush, well-manicured lawns.